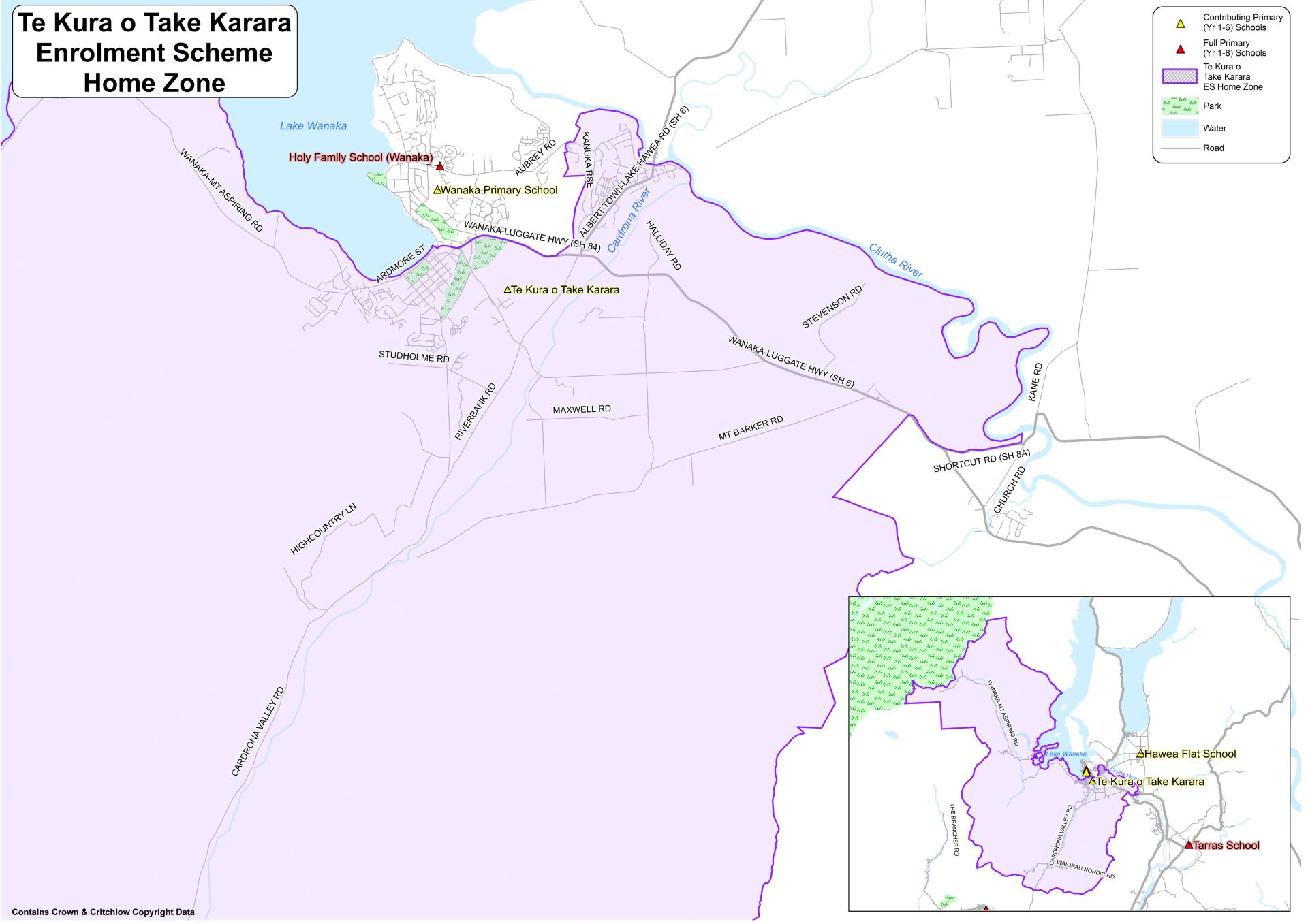 The guidelines for development and operation of enrolment schemes are issued under section 11G (3) of the Education Act 1989 for the purpose of describing the basis on which the Secretary's powers in relation to enrolment schemes will be exercised.
Home Zone
All students who live within the home zone described below (and shown on the attached map) shall be eligible to enrol at the school.
The Home Zone takes addresses on both sides of the boundary roads mentioned in the description unless otherwise stated.
Starting from the northern end of Wanaka-Mount Aspiring Road, near Mount Aspiring National Park, the home zone follows:
South-east on Wanaka-Mount Aspiring Road until West Wanaka Road (including Cameron Flat Road and Treble Cone Skifield Road)
East on Wanaka-Mount Aspiring Road until Bills Way (including West Wanaka Road, Emerald Bluffs Lane, Short Road, Buchanan Rise, Motatapu Road, Lake Road, and Ruby Island Road)
North on Bills Way until Sargood Drive (including Larch Place and Mill End)
South-east on Sargood Drive until Wanaka-Mt Aspiring Road (including Morrows Mead, Sargood Drive to the north of Bills Way, Sunrise Bay Drive, Norman Terrace, Blacksmiths Lane, and Heuchan Lane)
East on Wanaka-Mt Aspiring Road until Ardmore Street (including Homestead close and Tapley Paddock)
North-east on Ardmore Street until Lakeside Road
East on the southern side of Ardmore Street until Albert Town-Lake Hawea Road (including 237 Wanaka Luggate Highway)
North on Albert Town-Lake Hawea Road until Aubrey Road
North-west on Aubrey Road until Kanuka Rise (including Old Racecourse Road, Ewing Place, and Rockhaven)
From Kanuka Rise travels back down Aubrey Road until Gunn Road (including Kanuka Rise and Harrier Lane)
North-east on Gunn Road until Alison Avenue (including Ribbonwood Avenue and Hikuwai Drive)
South on Alison Avenue until Albert Town-Lake Hawea Road (including Ivy Lane)
North-east on Albert Town-Lake Hawea Road until the Clutha River
East along the southern bank of the Clutha River until the intersection of Luggate-Tarras Road (SH8A), Church Road, and Shortcut Road (SH 8A)
From this intersection travels west along the northern side of Shortcut Road (SH 8A) until Mount Barker Road (including Airport Way, Spitfire Way, Lloyd Dunn Avenue, and Mustang Lane)
South-west on Mount Barker Road until the end of Mount Barker Road (including Smith Road)
From the end of Mount Barker Road jumps north-west across the Cardrona River to Cardrona Valley Road
South-west on Cardrona Valley Road until number 2417 Cardrona Valley Road (including all of the side streets off of Cardrona Valley Road between Highcountry Lane and Prospectors Lane)
From number 2417 Cardrona Valley Road travels north-east back up Cardrona Valley Road until Studholme Road (including Highcountry Lane, Timber Creek Rise, and Hillend Station Road)
West on Studholme Road until the end of Studholme Road (near number 115 Studholme Road)
From the end of Studholme Road jumps north-east to the other dead-end of Studholme Road (near number 264 Studholme Road) (note includes all addresses on Studholme Road)
North-east on Studholme Road until Wanaka-Mount Aspiring Road
West on Wanaka-Mount Aspiring Road until Bills Way (including Far Horizon Drive, Elderberry Crescent, and all side streets off of Far Horizon Drive and Elderberry Crescent)